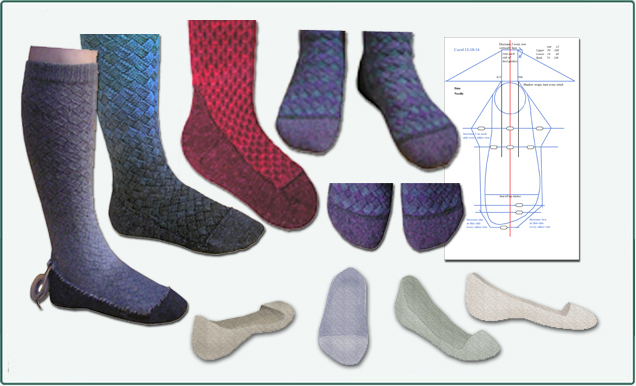 This is my take on a useful concept.
Socks are knit as an upper and a bottom which are then sewn together (I prefer two-at-a-time Magic Loop on one circular for each set, but you can use whatever you're comfortable with). The sock at left, an early trial, was basted together with fishline to check its fit (it did).
There are several advantages:
Socks wear out at the bottom of the heel or its back (where a shoe rubs), the toe, and/or the ball of foot. Separate bottoms are easily replaced.
The uppers can be made of different, far more fragile yarn. Socks of cashmere lace? Sure! A quick, solid pattern (heel stitch, eye of partridge, or ordinary garter or stockinette) for the bottoms can be married to whatever is singing to be the uppers.
As the bottoms are made to a template, different weights of yarn and sizes of needles can be used. My default is fingering weight yarn with size 1 needles; early trials with test knitters were done with worsted weight on honking big U.S. 7s!
Adjusting a favorite pattern – either toe up or cuff down – is no big deal, as patterns hold the upper stitches and work the heel with the rest. All the heel accommodation here is taken with short rows on the sock bottom. No picking up stitches along the edge of a heel flap (and holes), no gusset wedges, no dreadful pull over the top of the ankle. The individual template fits the foot: a narrow one with a high arch, a wide one with low arch, bunions, etc.
If you're on Ravelry, there are examples on my Projects Page. The link below will take you there.
There are two parts to the process: generating a template from a tracing around the foot plus a few measurements, and knitting sock patterns using it. Bottoms from templates have been test-knit cold, but I haven't worked either into final form yet. If you're interested in having me make you a personalized template (with detailed, illustrated instructions), send me an email. No obligation – I love to visit with people (and usually learn something).