There is currently no way to buy items through my site, but if you use the "Email Me to order directly" link at the bottom, I'll gladly send you a PayPal invoice for whichever version you want and the PDF.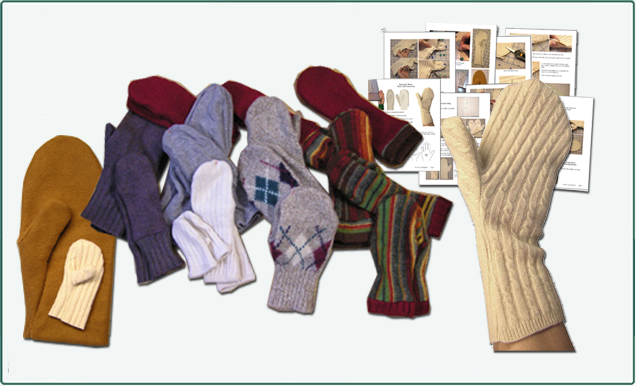 These one-piece ergonomic mittens have the thumb at a correct working angle, and the single seam does not chafe or interfere with using the hand. These are SEWN, not knit. Old felted sweaters work wonderfully.
The full set of patterns includes one for babies, and runs from child to adult for both square hands (most men) and rectangular (most women).
They come with complete step-by-step instructions. The two Sample Pages include the Table of Contents, which gives all the sizes.
Until the mitten pattern is in my online shopping cart, you can contact me directly (link, bottom right) with what you want. I'll send you a PayPal invoice and then the PDF direct to your email.
Complete instructions + 1 pattern (your choice): $6 *
Complete instructions + 3 patterns (your choice): $15
Whole enchilada: $25
The patterns were done proportionately – I found out early on that it didn't work to simply scale up the smaller to the bigger ones. All have been tested, which is where I got that table full of mittens to ship off to Pine Ridge!
Even felted mittens have quite a bit of stretch, so what's the point of all those sizes? Well, because I could; it's what I like to see in a multi-pattern. Also, if people pop for the big version there's that much more in my kitty to fund future projects.
* give hand dimensions from base of palm to the end of the longest finger, and width across palm (flat across, not around) – frex mine is a woman's, 3" x 6.5"